Los Angeles Pregnancy Discrimination Attorney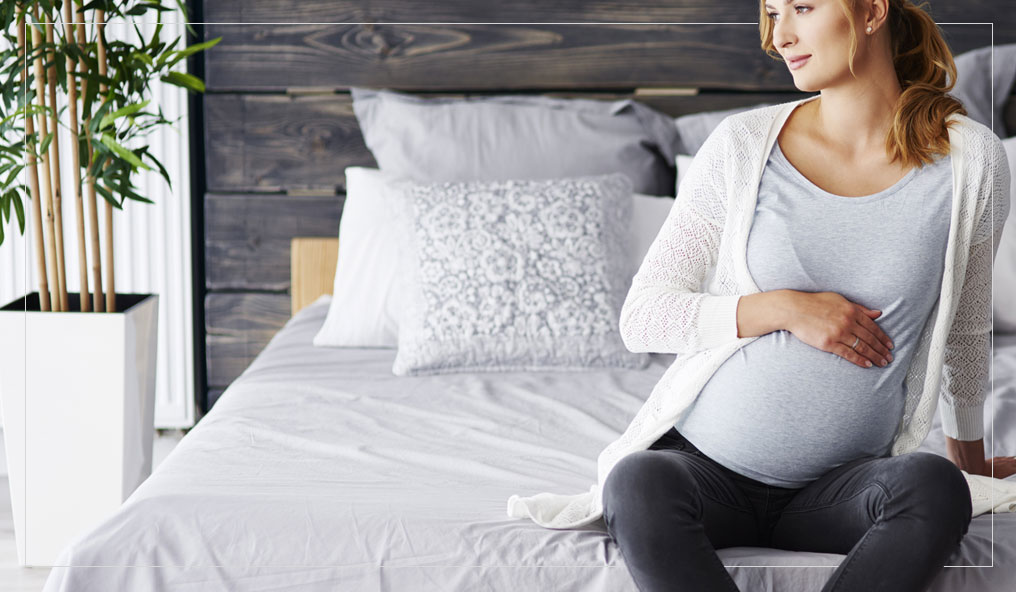 Los Angeles, pregnancy discrimination attorney/lawyer Employers in the United States are legally prohibited from specific actions, particularly those that involve discrimination of any kind. The Equal Employment Opportunity Commission (EEOC), the US Department of Labor, the California Department of Fair Employment and Housing (DFEH), and various other state and federal agencies review and investigate claims of all types of discrimination. Additionally, legislation such as the California Fair Employment and Housing Act (FEHA), the Americans with Disabilities Act (ADA), the Family Medical Leave Act (FMLA), and the Pregnancy Discrimination Act (PDA) exist to provide further protection to specific individuals in their workplaces.
Representing Victims of Pregnancy Leave Discrimination in Los Angeles, CA
When it comes to pregnant women in Los Angeles workplaces, the FEHA, the PDA and the regulations of the DFEH or the EEOC pertaining to pregnancy discrimination require employers to treat pregnant women similarly to employees who have temporary disabilities. Employers must make reasonable accommodations for pregnant employees, such as providing them with light duty, offering alternative assignments that pose a minimal medical risk, or providing up to four (4) months of pregnancy disability leave to an employee who is actually disabled because of pregnancy. The employers are also prohibited from any discrimination or retaliation based on pregnancy.
Your Legal Protections Against Pregnancy Discrimination
When it comes to pregnancy discrimination, some employers may feel tempted to discriminate against pregnant mothers in the workplace. Pregnancy leave typically means several months during which the employee will not be able to work, and a temporary employee must be hired during the pregnant worker's absence. A new mother typically has many domestic responsibilities to her newborn that may interfere with her typical work schedule once pregnancy leave concludes, and she returns to work. Some employers may not even be willing to hire pregnant women or women in general because of the perceived potential loss of productivity due to pregnancy. The FEHA/PDA prevents this discriminatory behavior, and anyone who experiences pregnancy discrimination in the workplace has the right to take legal action against their employer.
Pregnancy discrimination in the workplace occurs when an employer discriminates or takes adverse employment action on a pregnant employee because of the employee's pregnancy, childbirth, or related medical condition. Pregnancy discrimination may include:
Denial of time off or reasonable accommodations for a pregnant employee;
Firing or demoting a pregnant employee;
Forcing a pregnant employee to take time off or to remain on maternity leave; or
Placing restriction on a pregnant employee's work.
In California, a woman who works for an employer with five (5) or more employees is eligible for pregnancy disability leave regardless of the length of time she has worked for the employer. Moreover, the employee does not have to work full-time to be eligible for the pregnancy disability leave.
At Clark Employment Law, APC, we understand the many challenges that having a baby presents to any family. However, if you are expecting a new child, you should not bear the additional stress of workplace discrimination. The FEHA/PDA legally forbids any employer from discrimination based on pregnancy in any way related to employee pay, hiring, firing, paid time off, job assignments, fringe benefits, transfers, training, health benefits, or anything else pertaining to an employee's job duties and compensation. However, if you have experienced pregnancy discrimination of any kind, we can help.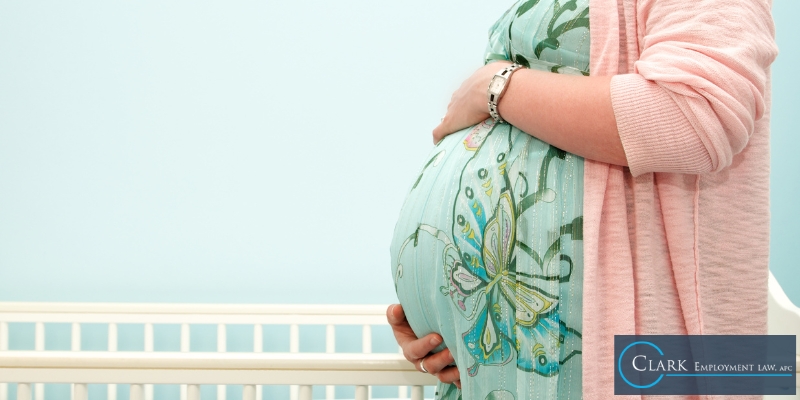 Why Do I Need an Attorney?
You may be wondering why you need legal counsel after experiencing pregnancy discrimination in the workplace. In that case, it's essential to understand the process of pursuing a pregnancy leave claim through the DFEH or the EEOC. Suppose your employer engages in any discrimination against you in Los Angeles, including wrongful termination, forcing an unpaid leave of absence, docking pay, restricting work hours, or any other punitive actions on the basis of your pregnancy. In that case, you have the right to file a pregnancy discrimination claim.
The claim process is detailed and complex. It's easy to feel lost once you see everything you will need to submit with your claim. Hiring our Los Angeles based pregnancy discrimination attorneys will make the claim process much more manageable. Our legal team can help you complete and submit your claim and assist you in gathering any supplemental materials you must submit with your claim.
At Clark Employment Law, we are committed to seeking justice for employees who have experienced pregnancy discrimination. Please contact our firm if you feel that you have been discriminated against or mistreated at work because of your pregnancy, childbirth, or related medical condition. We can confidently guide you through every stage of your pregnancy discrimination claim and pursue all legal remedies that are available to you. Our team will thoroughly investigate every detail of your claim and help you secure a satisfactory result from your case.
What Damages Can I Win From a Pregnancy Discrimination Lawsuit?
If you succeed with your pregnancy discrimination claim against your employer, you could potentially secure a sizeable case award, depending on your employer's actions. For example, if you were wrongfully terminated by your employer based on your pregnancy, it's possible to secure reinstatement to your position if you desire it, in most cases. Additionally, you have the right to claim back pay, front pay, lost income, lost benefits, and your attorneys' fees and costs.
Additional damages are also possible, such as compensation for your emotional or mental distress under California's statutes pertaining to pain and suffering in civil claims. Your Los Angeles pregnancy discrimination attorney can help you determine an appropriate amount to include with your claim. The judge may also have the discretion to award punitive damages if it is proven by clear and convincing evidence that the defendant has been guilty of oppression, fraud, or malice. As the name implies, the purpose of punitive damages is to punish a defendant's bad behavior and to deter similar actions in the future. The amount received generally depends on the wealth of the defendant and the severity of their behavior.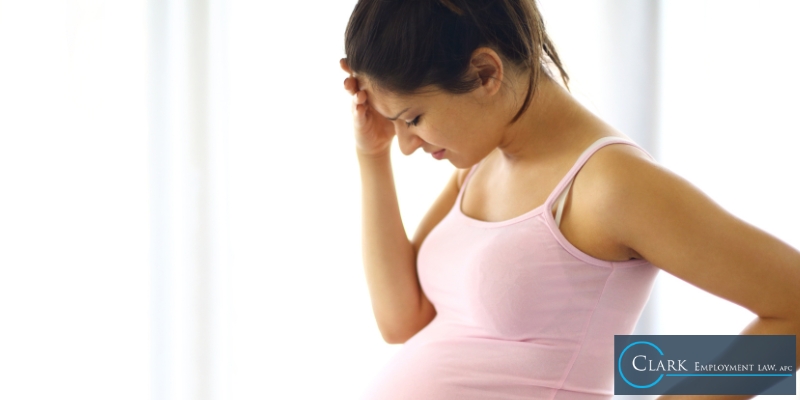 What to Expect From Your Los Angeles Pregnancy Discrimination Attorney
When you choose Clark Employment Law, APC, to represent you in a pregnancy discrimination claim, our team will provide meticulous and personalized legal counsel through every phase of your case. In addition, we'll get to know you and your situation to ensure we do not overlook any aspect of your claim. Our team understands the distress that follows any incident of pregnancy discrimination. Having a child should be a time for celebration. But experiencing pregnancy discrimination from your employer can not only create unnecessary mental and emotional stress and uncertainty during a medically sensitive time in your life but also generate financial strain for you and your family as you prepare to bring a new child into the world.
Employers who engage in discriminatory actions must face accountability for the damage they cause. If you believe you were the victim of pregnancy discrimination in California, it is vital to consult our experienced Los Angeles based pregnancy discrimination lawyer as soon as possible. There is a time limit (statute of limitations) for filing a discrimination claim with the DFEH/EEOC before you can even file a complaint with the court; so, it is vital to act quickly to have the best chance of success with your claim. If you are ready to discuss your legal options with a reliable team of attorneys, contact Clark Employment Law, APC today (818) 741-2101 to schedule a free consultation.